Historic Commercial Storm Windows - Velv-A-Lume
The Invisible Storm Windows
VELV-A-LUME Storm Windows have been solving unique window problems for many years. Increasingly, architects and engineers are writing specifications which demand a high level of performance and quality. .. which are being met by VELV-A-LUME Storm Windows.
The uncommon combination of tubular aluminum extrusions, tongue and groove sash seal, and close tolerances between sash and frame make the VELV-A-LUME Storm Window a serious performer. As a result, VELV-A-LUME Storm Windows have been installed in many state, local, and federal projects, including office buildings, colleges, police barracks, highway department buildings, and hospitals, as well as veterans administration and military reservation facilities.
The preservation and renovation of homes and buildings of historic and architectural significance presents a singular challenge involving windows. Often, due to restrictions and guidelines enacted by localities, existing architectural details, such as windows, must be preserved. The VELV-A-LUME Storm Window has been used extensively in these situations. Designed to fit flush within the existing window opening, it's often difficult to detect that a storm window has been installed.
VELV-A-LUME Storm Windows are "butt construction," expander windows. An expander window is unique in that it can be fitted into a window opening that is out of square and still fit perfectly, always allowing the sash and frame to remain square and operate with ease. VELV-A-LUME... the ideal choice for "invisible" protection.
Features
Flush mounting for non-obtrusive appearance
Expander type frame for perfect fit in almost any opening
Tubular aluminum extrusions for exceptional strength
Interlocking sash and tongue and groove sash seal for remarkable resistance to the elements
Electrostatically applied enamel finishes provide long lasting service
Aluminum screen wire standard - fiberglass wire optional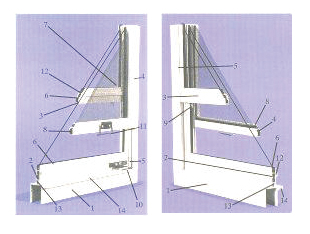 Sill Main Frame
Lower Sash Frame - Tubular Extrusion
Upper Sash Frame -Tubular Extrusion
Insect Screen Frame-Tubular Extrusion
Frame Jamb
Glazing Vinyl
Aluminum Insect Screen - (Fiberglass Optional)
Lower Screen Frame - Tubular Extrusion
Spring-Loaded Thumb Screw Latch - Upper Sash
Spring-Loaded Latch Handle - Lower Sash
Screen Latch Handle - Stainless Steel
Sash Interlock
Tongue and Groove Type Seal
Screen Track with Latch Lip
Corner section of main frame of storm window, showing both top and bottom sash and screen, each in separate tracks. (Note: all screen rails and bottom of both insert rails are tubular extrusions to assure more strength and rigidity.) (Pictured Left)
Both sash are glazed with wrap-around vinyl for easier repair and strength. Special corners are used to eliminate dimples and staking marks. (Pictured Right)

"Person-McGhee Farm" located in Franklin County, North Carolina. Oldest part built between 1770 and 1820. Listed in National Register of Historical Places August 14, 1979. Velv-A-Lume Storm Windows installed in Spring of 1999.

Maple Manor Apartments in Mecklenberg County, Virginia.
Originally built in 1908 as Chase City High School. Listed in Virginia's Landmarks Register by the Virginia Historic Resources Board. Velv-A-Lume Storm Windows installed in Winter of 1999.