Casements and Awnings - Westview
Nothing adds style and flair to your home like the WestView
An Impressive List of Standard Features:
Independently Tested and Certified Single C-C50 or Twin C-LC40
Full one-inch insulated glass for improved thermal performance and reduction of sound transmission through the window.
Two compression seals plus one-fin-seal weatherstrip around the perimeter of the sash for a tight, energy saving seal between the sash and frame.
Multi-point locking mechanism pulls the sash into the frame where it is securely latched by a single easy-to-operate lock handle at the bottom of the window - no more hard-to-reach top mounted handles.
Special "washability" hinge allows you to clean your WestView Casement windows safely from inside the home (unless egress hinges are installed). Sash opens to 90 degrees for maximum ventilation.
All hinges and locking mechanisms are concealed for a clean look.
Frame and sash are constructed of multi-cavity vinyl extrusions that will not peel, chip, rust, or fade, and are fusion welded for strength and long service life.
E-card coated hinges have stainless steel track, heavy gauge steel arms, brass stud, and stainless steel reinforced slider for years of trouble-free operation.
Operator handle and cover are streamlined to minimize interference with window treatments such as blinds and drapery.
Multiple section casements, awning window, and matching picture windows are available in new construction as well as replacement configurations.
Additional standard features include a beveled sash design, frame receiver grooves for snap-on accessories, and an optional interior mounted screen.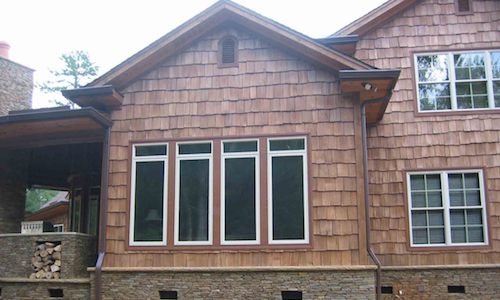 WestView Casement windows are a great choice to add flair to bath and kitchen. The bottom mounted operator handle lets you open the window more easily, without the usual climbing and stretching, making them ideal for use over bathroom tubs and kitchen counters.
Enjoyable Comfort and Savings
One-Inch insulated glass and multi-cavity vinyl frames combine to reduce outside noise invading the home through the windows, making the inside your home much more relaxing and enjoyable.
A Fresh Contemporary Look
The WestView Casement's versatility allows it to be used with many styles of homes, creating a fresh new contemporary look.
WestView Casements are the perfect solution to many hard-to-solve window situations, shown here transforming a patio area into a bright, beautiful living space.