West Classic Aluminum Sliding Doors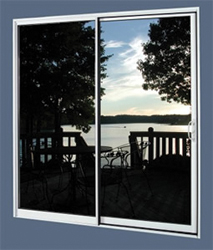 West Classic™ Aluminum Sliding Doors are Strong, Thermally Improved Aluminum
Standard and Custom sizes available in:
2 panel (OX or XO)
3 panel (OXO,OOX, or XOO)
4 panel (OXXO).
Many glass options including energy efficient Low-E2 and Low-E2 with Argon gas fill.
Several screen wire options (Aluminum wire standard)
Grid options include 1" Contour, 11/16" Contour, 9/16" Flat grid. Stri-lite glass is available for 6068 door only.
5068, 6068, as optional R-50 with extra panel reinforcements.